702-210-4201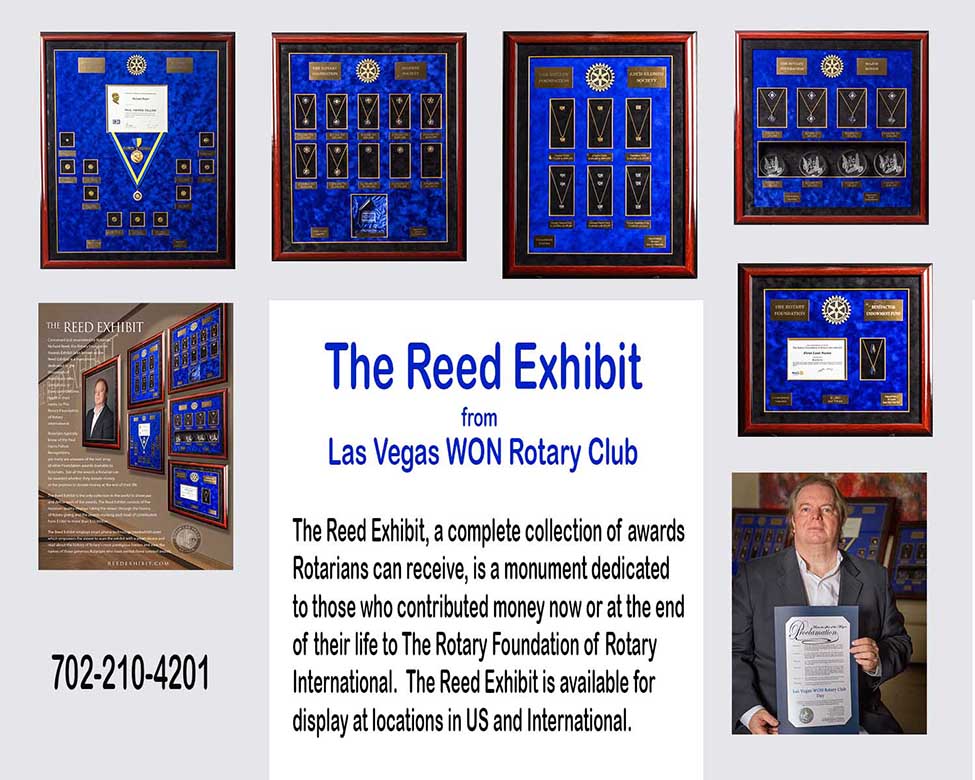 Founder / creator of the famous ReedExhibit.com, HalfPriceShows.com, LasVegasDiet.com, ReedConsortium.com, Insidervlv.com, and more than 800 additional web sites are the pride and joy of Richard Reed. 702-210-4201.
The Founder and Charter President of the Las Vegas WON Rotary Club, Richard Reed, is a long time Rotarian. For decades, a resident of Las Vegas, Nevada, and is a businessman who gives back to the Las Vegas, NV and other communities worldwide.
Richard Reed is the owner of the largest Rotary collection of awards, the famous Reed Exhibit. Known for his unique collection, Reed is a historian of Rotary with many one of kind items in his collection. . .
The Reed Exhibit consists of the following awards:
All Paul Harris Fellow recognition levels $1000 – $9999, certificate, pins.
All Major Donor recognition levels $10,000 – $249,999.99 pins, necklaces, Crystals
All Arch Klumph Society levels $250,000 – $10,000,000+ pins, necklaces
All Benefactor / Bequest Society levels $1,000 – $10,000,000+ pins, necklaces
And more all displayed in elegant frames with plush backgrounds to highlight the one of a kind collection for everyone to enjoy.
The Reed Exhibit has been on display at many prestigious Rotary conventions, foundation events, foundation dinners, President Elect Training, numerous District conferences and many other prominent locations.
Do you need a show piece to give your next Rotary event something people will be talking about the event for years? The Reed Exhibit can be displayed at your next event. Take a moment and call, 702-210-4201 and find out availability, costs and other interesting Rotary historical items available for display.
Visit Another One of Our Web Sites – LasVegasDiet.com

–